INCEPTION OF THE PROGRAM AT THE DEPARTMENT OF FORENSIC SCIENCE
Having contributed to Nation-building for the last 32 years through training of police officials and engineers, along with research, our transition to the next level for creating qualified personnel in the scene of occurrence examination, scientific analysis of evidence, and thorough, reliable investigations, and helping the nation in capacity building, was a natural step ahead.
Considering the need for qualified personnel to handle the alarming scenario of crimes in the country and to foster a scientific temperament, CTM is running a full-time, two-year postgraduate program through its Department of Forensic Science approved by National Forensic Sciences University. The Department offers a program to produce qualified professionals eager to advance in the diverse fields of forensic science and its associated realms, with the goal of ensuring justice in court.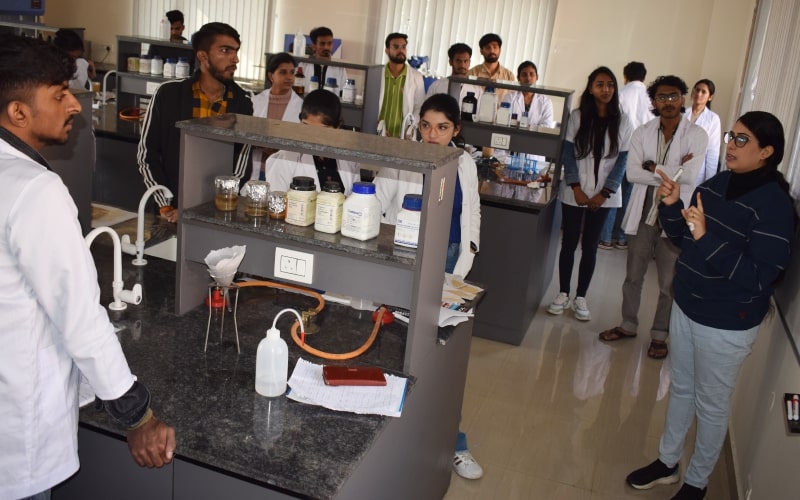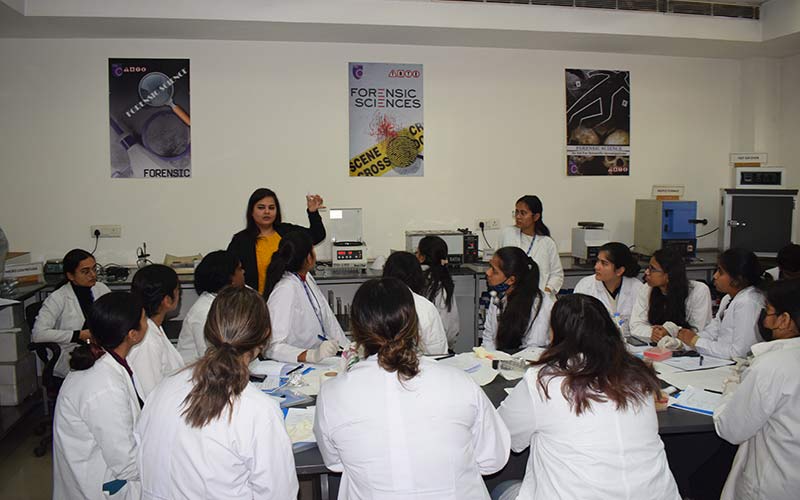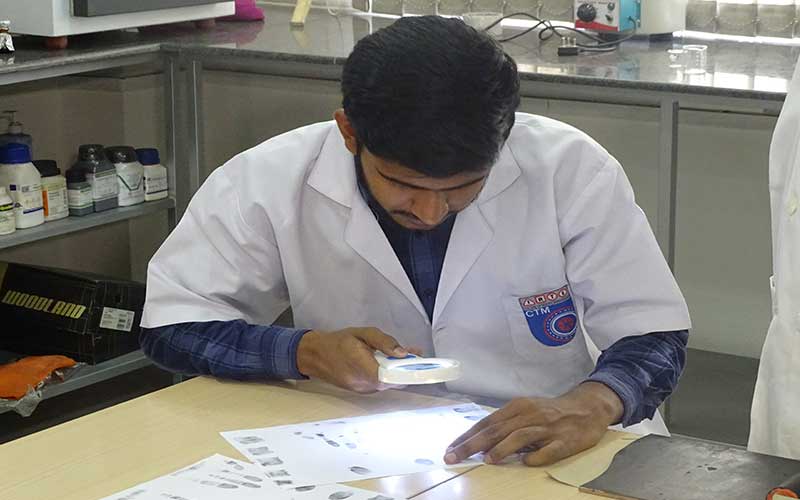 ABOUT THE PROGRAM
The M.Sc. program uniquely integrates a multitude of forensic scientific aspects, enabling graduating students to become valuable assets to various stakeholders.
We offer a comprehensive and engaging classroom learning program that provides students with a solid foundation in the principles, techniques, and applications of forensic science. We strive to create an immersive and dynamic learning environment.
Hands-on training is an integral part of our curriculum. We believe that actively engaging in laboratory experiments and simulations, allows students to enhance their technical expertise and analytical abilities. And through our fieldwork component, students have the chance to apply their theoretical knowledge in practical scenarios. They work alongside professionals in the field, gaining valuable insights into various domains of forensic science. This exposure helps them develop critical thinking skills and a deep understanding of the challenges faced in forensic investigations.
Furthermore, we foster partnerships with law enforcement agencies, forensic laboratories, and other relevant organizations to offer internships and collaborative project work to our students. These opportunities further enhance their practical exposure and provide valuable networking connections that can open doors to future employment.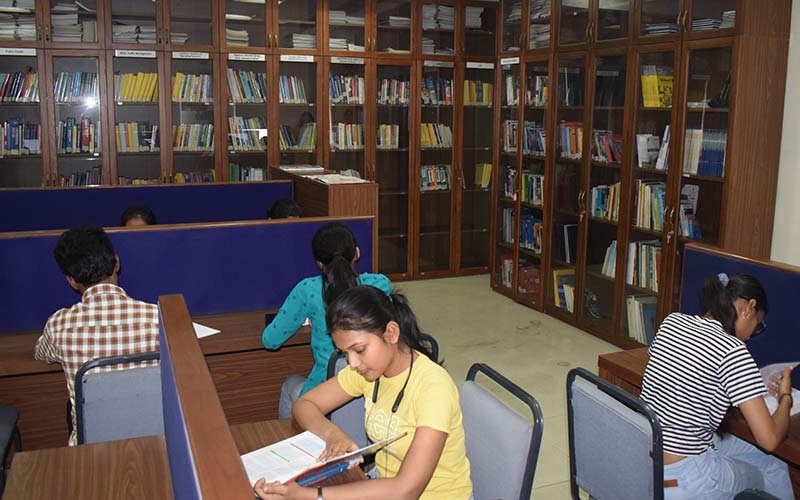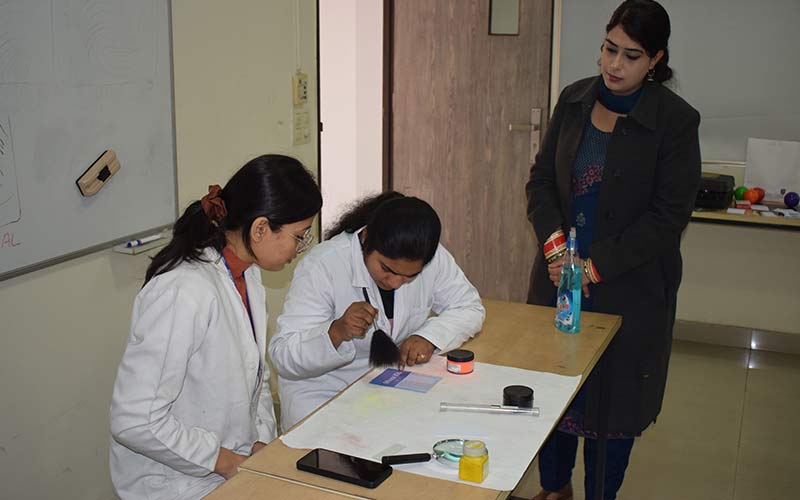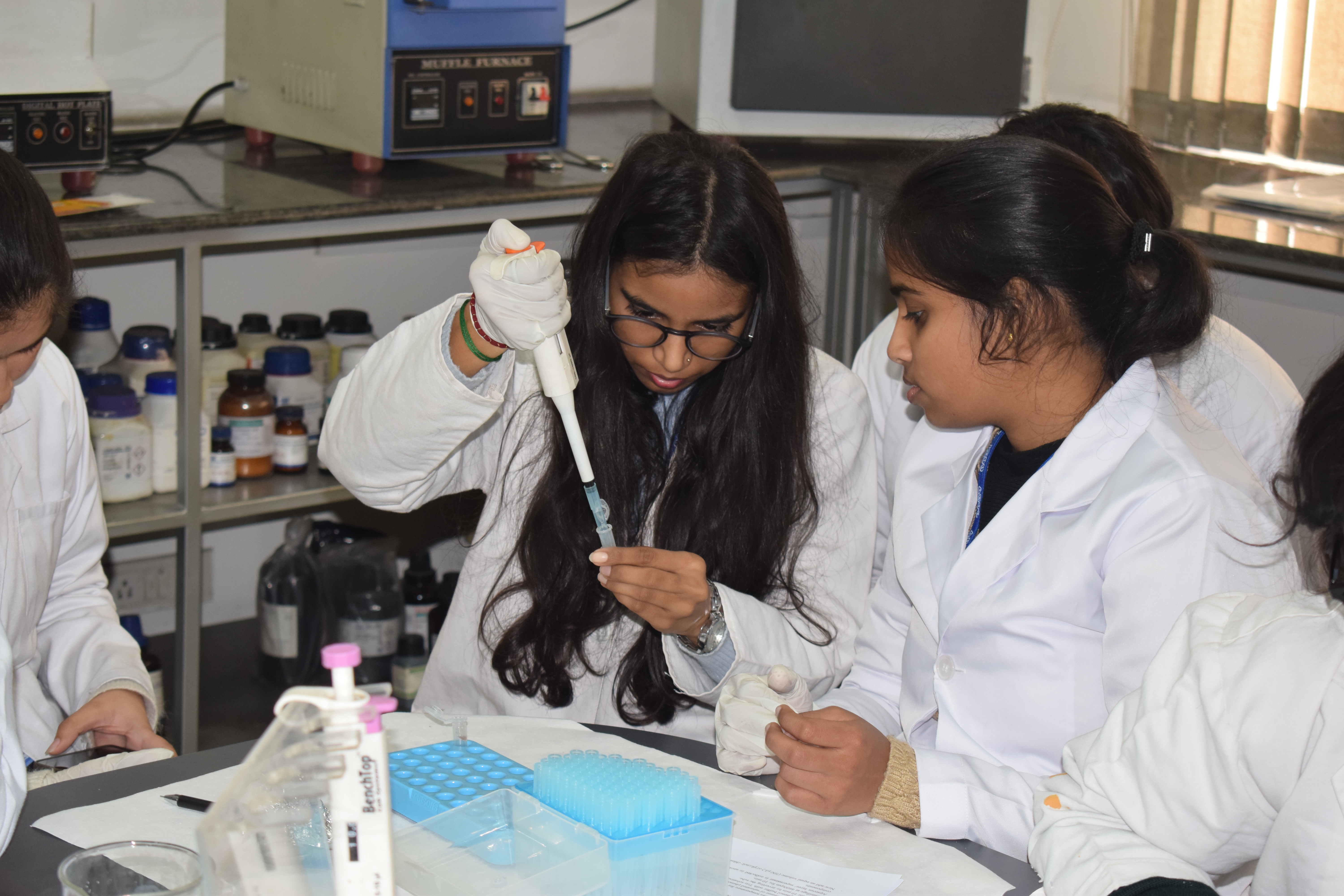 OBJECTIVES OF THE PROGRAM
The objective of the program is to provide in-depth knowledge and encourage the holistic development of students in the field of forensic science by creating a research environment and offering hands-on experience in the various domains of analytical sciences through the M.Sc. program.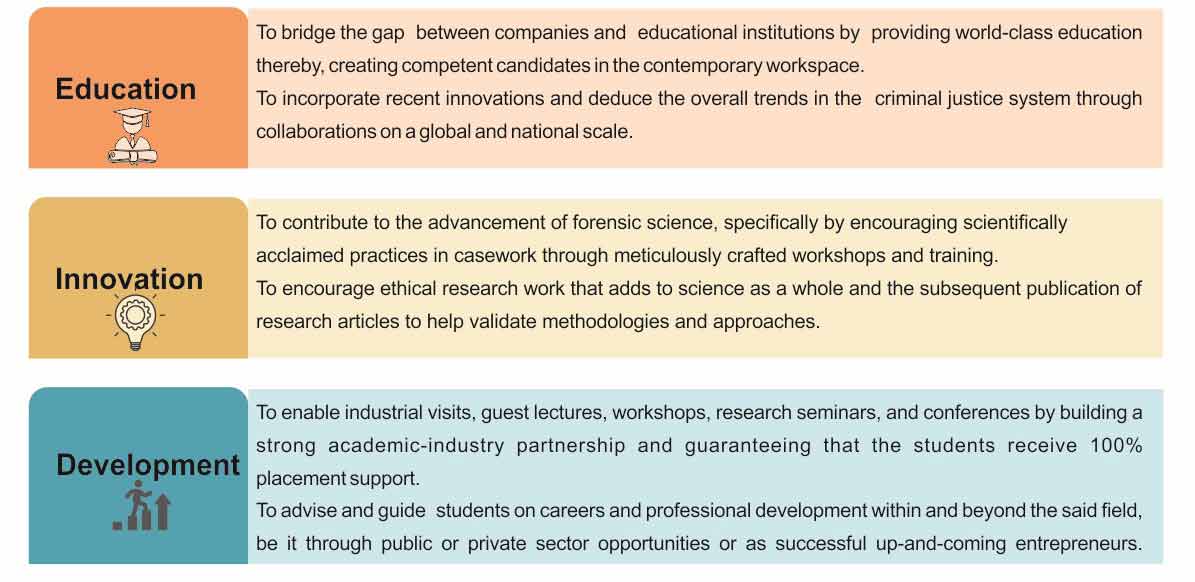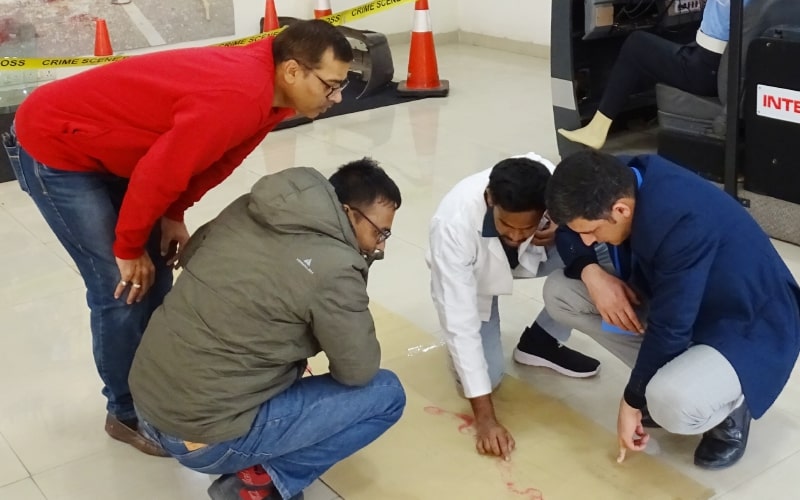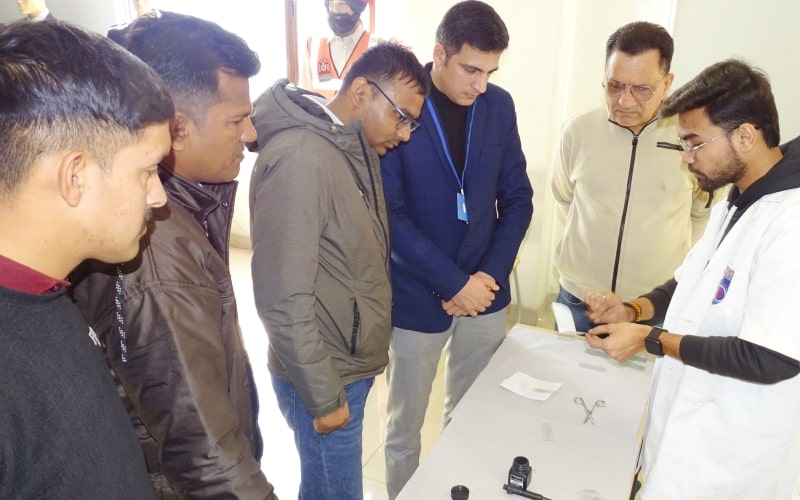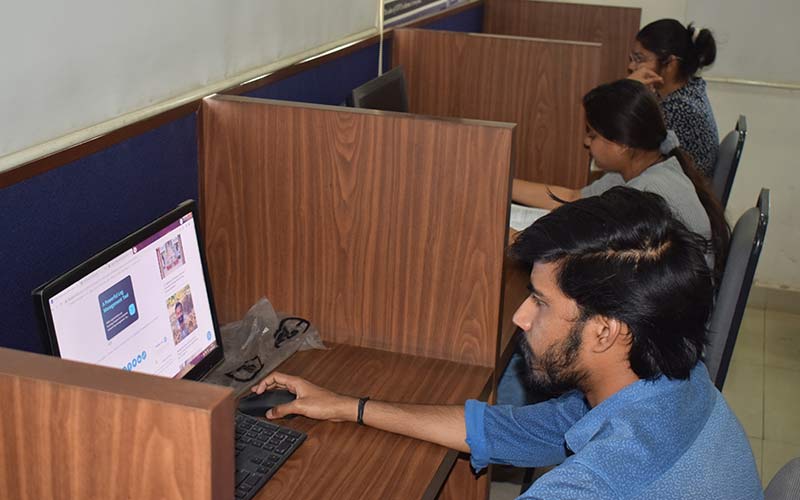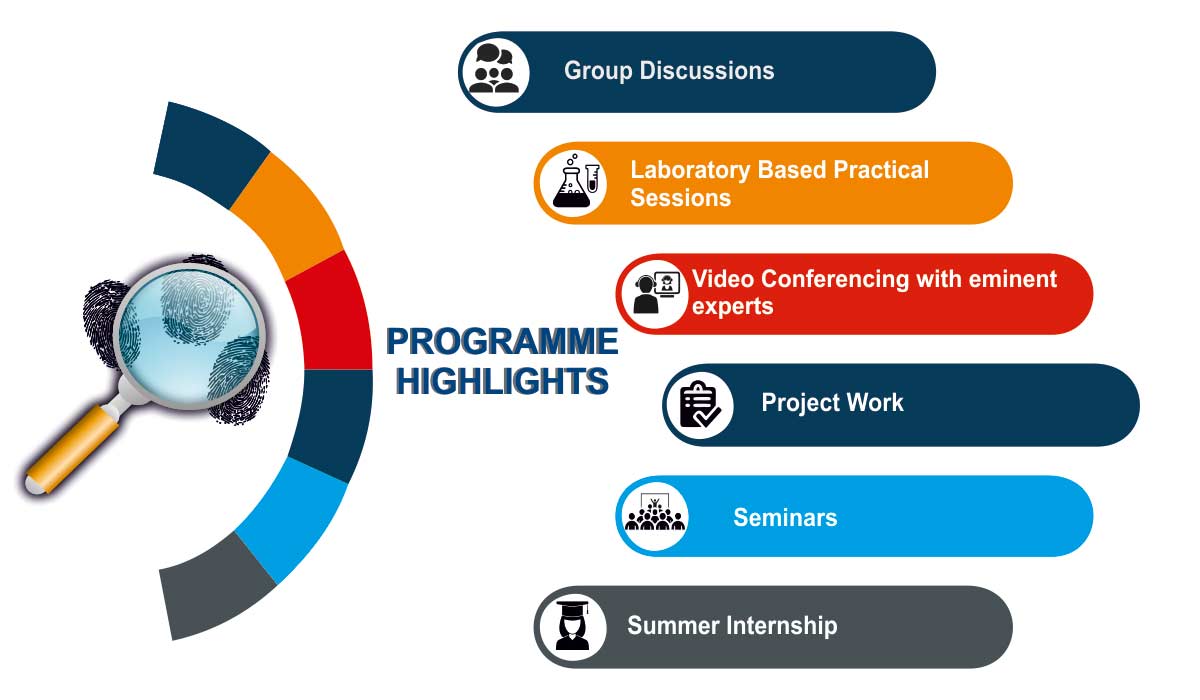 COURSE STRUCTURE
Semester – I
| S. No. | Subject |
| --- | --- |
| 1 | Introduction to Forensics, Psychology, Law, and Statistics |
| 2 | Instrumental Techniques |
| 3 | Crime Scene Management and Forensic Evidences |
| 4 | Fingerprints and Questioned Documents |
| 5 | Forensic Biology and Anthropology |
| 6 | Laboratory Course– I |
| 7 | Laboratory Course– II |
SEMESTER-II
| S. No. | Subject |
| --- | --- |
| 1 | Quality Management, Narcotic Drugs, Explosives and Forensic Chemistry |
| 2 | Forensic Serology and DNA Profiling |
| 3 | Forensic Medicine and Toxicology |
| 4 | Forensic Ballistics |
| 5 | Basic Concepts of Digital Forensics |
| 6 | Laboratory Course – I |
| 7 | Laboratory Course – II |
Semester – III- Specialization Offered
Specialization – 1 (Forensic Chemistry and Toxicology).
Specialization – 2 (Forensic Biotechnology)
Specialization – 3 (Forensic Physics and Ballistics)
Specialization – 4 (Fingerprints and Questioned Documents)
Specialization – 5 (Cyber Forensics)
Specialization – 6 (Crime Scene Management)
Semester – IV
| S. No. | Subject |
| --- | --- |
| 1 | Dissertation/Major Project |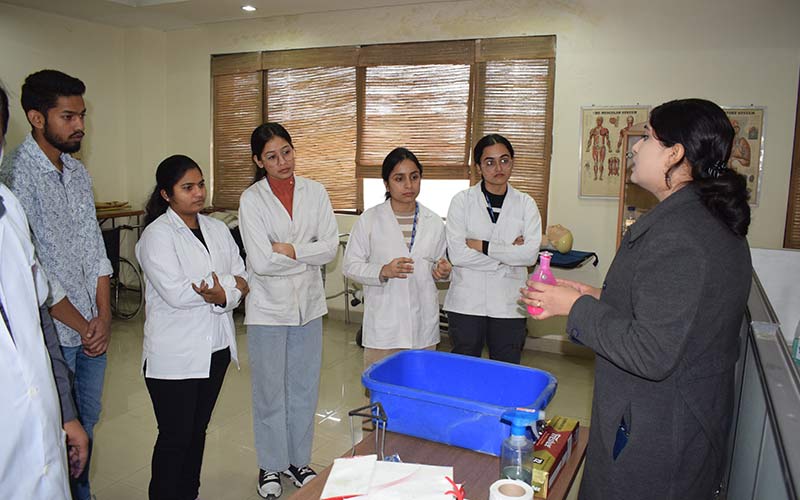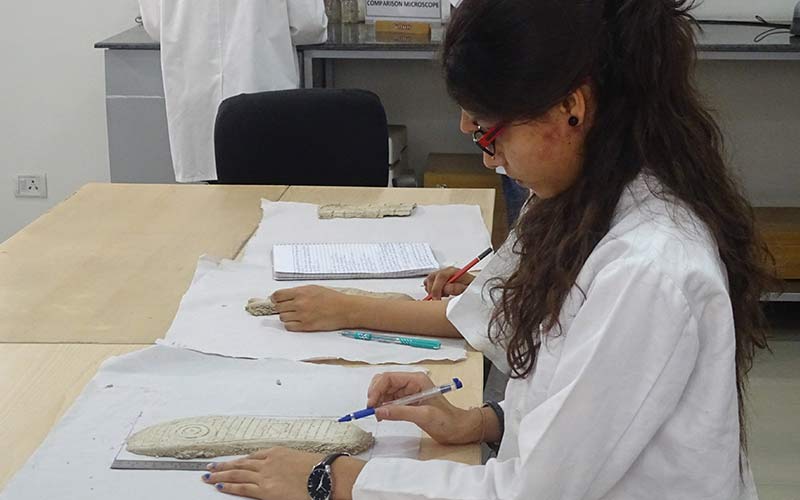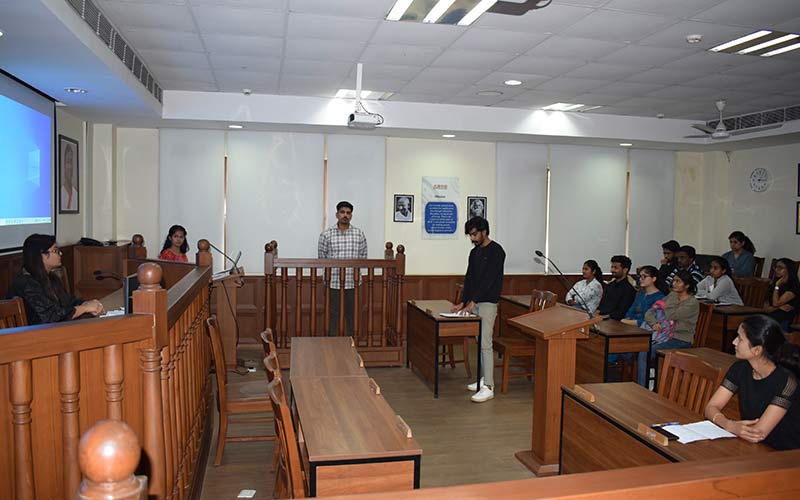 Fieldwork –
CTM is the only Institution in Delhi NCR that offers fieldwork opportunities to students as an integral part of their curriculum. This unique feature allows students to actively engage in real-time cases collaborating with Police officials, mobile forensic units & investigators. This helps the students to visualize and learn strategies employed in court proceedings to present themselves as competent forensic experts when providing testimony. Additionally, students gain a comprehensive understanding of victimology, criminology, and the challenges associated with these fields. They also acquire knowledge of the procedural aspects involved in conducting post-mortems. This is further described below:-
Police Departments – Students have the privilege of working with police departments and participating in the investigation of real-time cases at crime scenes, working alongside skilled investigating officers.
Law Firms - They acquire insightful and practical knowledge of court proceedings and develop the necessary skills to serve as expert witnesses in the court of law.
NGOs- We collaborate with NGOs working on various crime-related issues, such as crimes against women, crimes against children, and child labor, providing students with the chance to explore the physical and psychological challenges faced by victims and learn about proactive forensic strategies.
Hospitals – This allows students to gain a deeper understanding of the complex medico-legal issues involved in investigating deaths, including the evaluation of evidence to determine the cause and manner of death.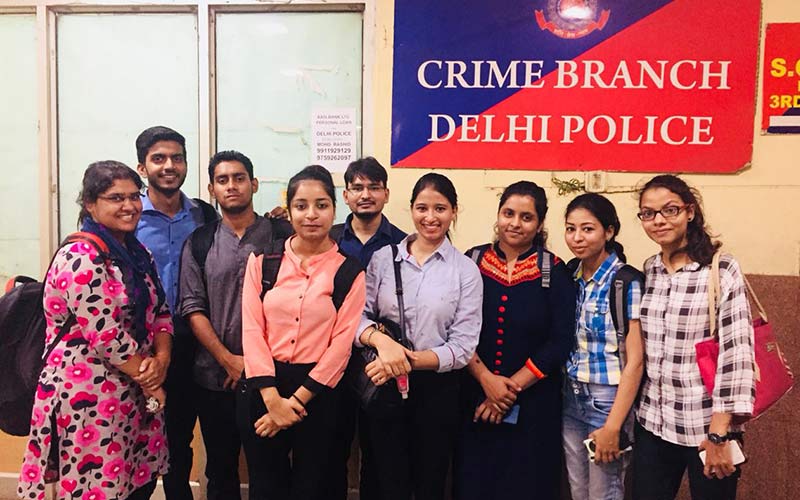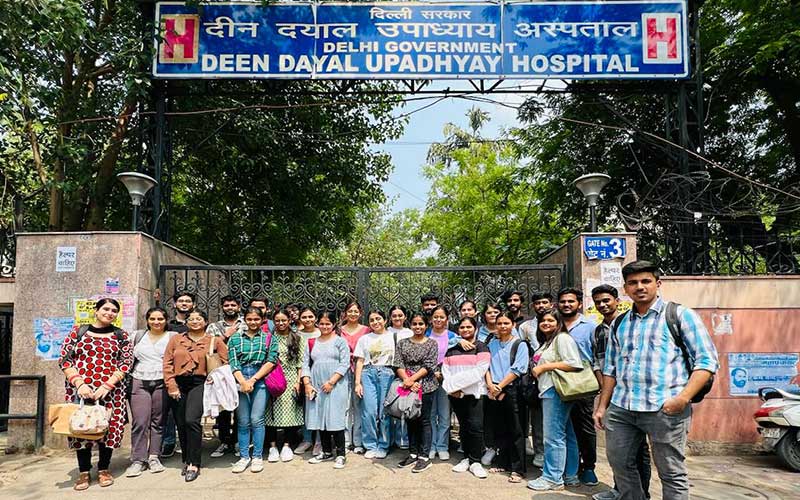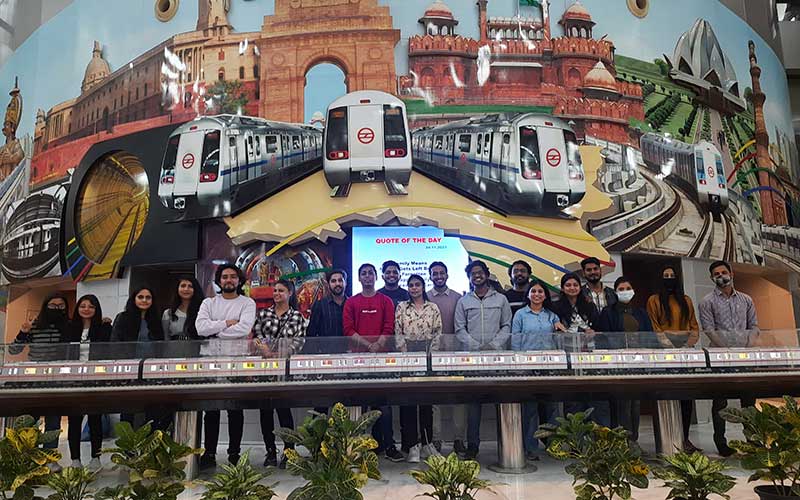 WHY STUDY WITH US
We offer comprehensive 100% placement assistance.
Our institution houses advanced and well-equipped Forensic Science Laboratories, including the Crime Scene Investigation Lab, Questioned Document & Fingerprint Science Lab, Forensic Biology Lab, and Forensic Chemistry Lab, among others.
We provide expert talks, guest sessions, and training programs conducted by esteemed national and international academicians and experts in the field of Forensic Science.
We establish strong industry-academia linkages through conferences, seminars, workshops, training sessions, events, and career counselling sessions.
Our students have the opportunity to intern in various government labs such as Regional Forensic Science Laboratories, State Forensic Science Laboratories (FSLs), and Central Forensic Science Laboratories (CFSLs) across India. Additionally, internships are available in private forensic science laboratories such as Truth Lab, Hawk Eye Forensics, International Forensic Services, Cyint Technologies, and more.
We emphasize on extending research areas to promote interdisciplinary collaboration.
We have signed Memorandums of Understanding (MoUs) with esteemed institutes/organizations including University of Birmingham, Graz University of Technology, School of Planning and Architecture, New Delhi, Haryana Police, Punjab Police, National Forensic Sciences University (Delhi Campus), and Hawk Eye Forensics.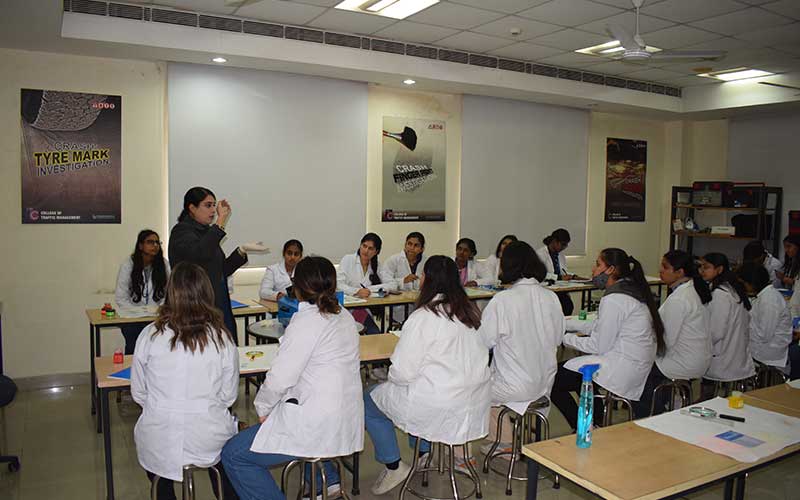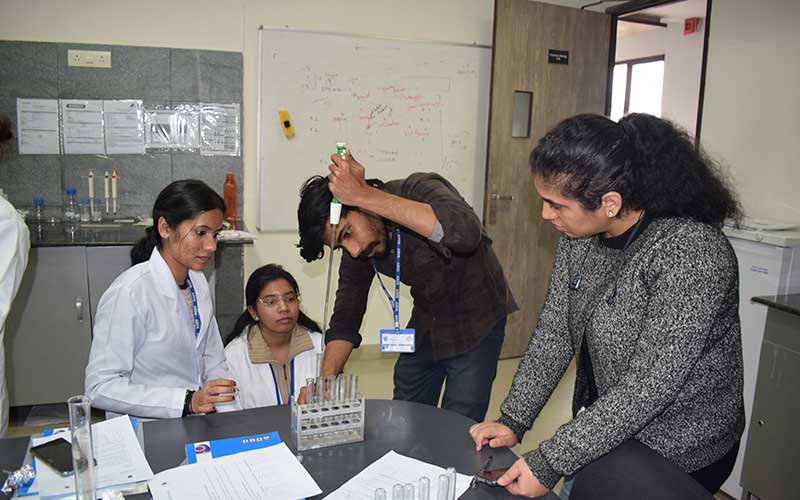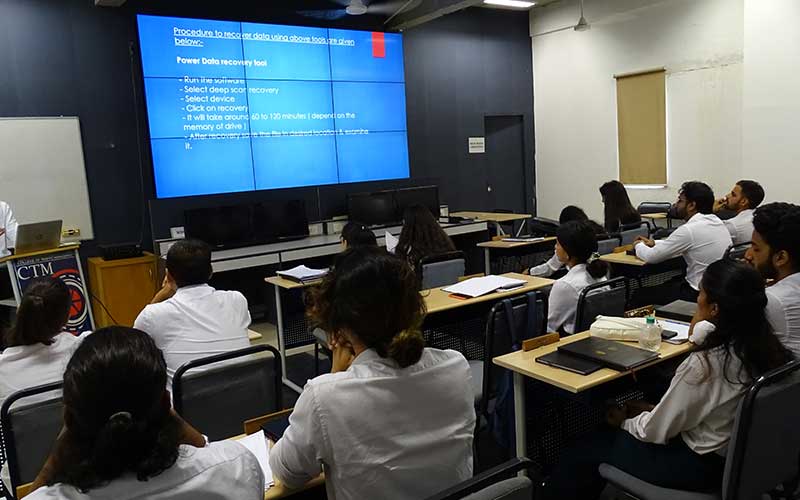 PLACEMENT OPPORTUNITIES
At CTM, we strive to provide our students with a wide range of placement opportunities that align with their career aspirations. Our strong industry connections, combined with our comprehensive curriculum, ensure that graduates are well-prepared for future job prospects.
Throughout their placements, students receive mentorship and guidance from experienced professionals in the field. These opportunities not only enhance their technical skills but also foster the development of critical thinking, teamwork, and communication skills that are vital for a successful career in forensic science.
CAREER OUTCOMES
As Forensic Scientists/ Senior Scientific Officer/ Scientific Officer/ Senior Scientific Assistant/ Scientific Assistant/ Laboratory technicians in various Forensic Science Laboratories (Government & Private Forensic Science Labs) across India.
Freelance experts in the area of Questioned Documents & Finger Prints
In material testing laboratories – The quality check division
Both Government & Private Banks
Insurance agencies
Pharma Companies
Detective Agencies
Security Agencies/departments
Research Organizations
Academics-Colleges/Universities
Legal/Consulting Firms
Multi-National Companies
Corporate Firms
Quality Audit Organisations
Digital, Cyber forensic & mobile forensic Labs & firms