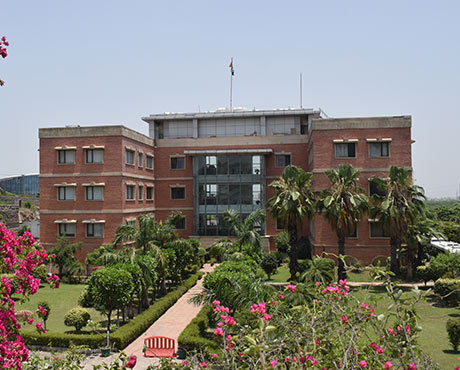 About IRTE
The Institute of Road Traffic Education (IRTE), established 30 years ago as a not for profit research organisation, has become the country's premier resource towards capacity building in all domains of traffic management and road safety.
IRTE has been training police officers (both for Indian Police Services & State Police Service) officials of the Army, Navy and Airforce, Para Military Forces, Highway & PWD Engineers, Driver Trainers and drivers, Transport Officials, Motor Licensing Officers, amongst others, across India.
Since its inception, IRTE has delivered several important initiatives which have received national recognition from the Indian Government as well as the corporate sector. These research based initiatives include the Traffic Enforcement Vehicles – Interceptor, Mobile Crash Investigation & Road Safety Research Laboratory – CrashLab, the School Conclave programme for imparting road safety education in schools, the National Highway Road Safety Literacy programme, Journey Risk Management JRM ,Student Traffic Volunteers Scholarship Scheme, the bottom-up approach in interactive driver training systems, amongst many others.
IRTE has been conferred with many national and international awards, including the first National Road Safety Award in 2000, by the Government of India and The Prince Michael International Road Safety Award (2001), presented to IRTE, the first time outside of the United Kingdom.
IRTE is a member of the United Nations Road Safety Collaboration and Towards Zero Foundation. IRTE has earned a Roster Consultative Status from the United Nations Economic and Social Council since 2010. IRTE has also been participating at the Global Forum for Road Traffic Safety (WP1) of the United Nations Economic Commission for Europe (UNECE) as an Observer. The IRTE and UNECE have signed a Memorandum of Understanding in Geneva on the occasion of the 76th session of the Global Forum for Road Traffic Safety to promote road safety in India and South East Asia.
In 2010 IRTE established the COLLEGE OF TRAFFIC MANAGEMENT (CTM) which has been recognized as the Centre of Excellence in Road Safety for Southeast Asia.
Based in the Aravali Hills, Faridabad in the NCT of Delhi, the College has six Departments:
Department of Traffic Enforcement
Department of Forensic Science
Department of Traffic Engineering
Department of Driver Training & Road Safety Education
Department of Public Health for Road Safety
Department of Law
The College of Traffic Management offers a 2 year full time MSc. Program in Traffic Management and in Forensic Science. These two courses are not only job oriented courses but also courses that help holistic development and growth in an individual. A career in these fields helps one give back to the nation by providing their faithful services- in the fields of road safety and forensic sciences on the basis of their knowledge gained in the 2 years of the course.